Welcome to our End-of-Year Market Report – the most accurate report in Teton County.
Jackson Hole Real Estate Associates utilizes a database that manually tracks ALL Teton County real estate sales. Most, but not all sales are reported in the Teton County MLS (Multiple List Service). Typically, it is the higher-end sales that go unreported, vastly skewing the accuracy of MLS data alone. Our market report accounts for all sales in our market, providing a comprehensive overview and deeper insight into the market.

As the #1 Brokerage in the region in transaction volume we monitor real estate data daily, closely watching trends that shape our real estate market. Our goal is to empower our clients with the most up-to-data information as they navigate Jackson Hole real estate opportunities.
​​​​​​​
Experience the JHREA difference by working with Jackson Hole's truly local, leading real estate experts. We area team of trusted advisors working collaboratively to leverage our collective knowledge and expertise to deliver fundamentally different service. For us, nothing matters more than creating legacy of excellence that honors and celebrates our people and the exceptional place we call home.
​​​​​​​
The Jackson Hole Real Estate Market - A Record Breaking Year
The popularity of living in Jackson Hole has never been greater. The trend that started in the second quarter of 2020, the exodus from cities to locations with open space and safety, ramped up substantially pushing demand for local real estate to new heights. By the end of the third quarter of 2020, the Jackson Hole real estate market closed over $1.5B of residential transactions, more than the entire year in 2019. And it didn't stop there.

​​​​​​​According to data collected from the Teton County Multiple List Service (MLS) along with proprietary off-market data (transactions that were not disclosed in the MLS), the overall Total Sales Volume for 2020 increased an incredible 90% over 2019 to over $2.3B. In addition, Total Transactions increased 27% Year-Over-Year 2020 vs. 2019.

The overall average sales price for real estate in Teton County jumped 50% to $2.8M Year-Over-Year 2020 vs. 2019. In the Single-Family-Home category, the average sales price rocketed to $3.7M, pushed up by an explosion in the Luxury Segment of the market (listings trading at the $3M mark and higher). The single family home segment and land segment drove the 2020 market uptick with an increase in total sales volume of 127% and 133% respectively.

Overall active listings at the time of this report in Teton County are down -58% and pending listings are up 39%, confirming the lack of available inventory and increased demand will continue into 2021. The average days on market are down for the Vacant Land and Luxury segments, yet up 15% in Single Family Homes. Inventory that is lingered on the market in Single Family Homes remains, while the new inventory sells.

The following pages provide a more detailed look at Single Family, Condos, Land, Luxury, Commercial and Ranch segments of the Teton County real estate market Year-Over-Year 2020 vs. 2019.


Overall Average Sale Price

$2,779,776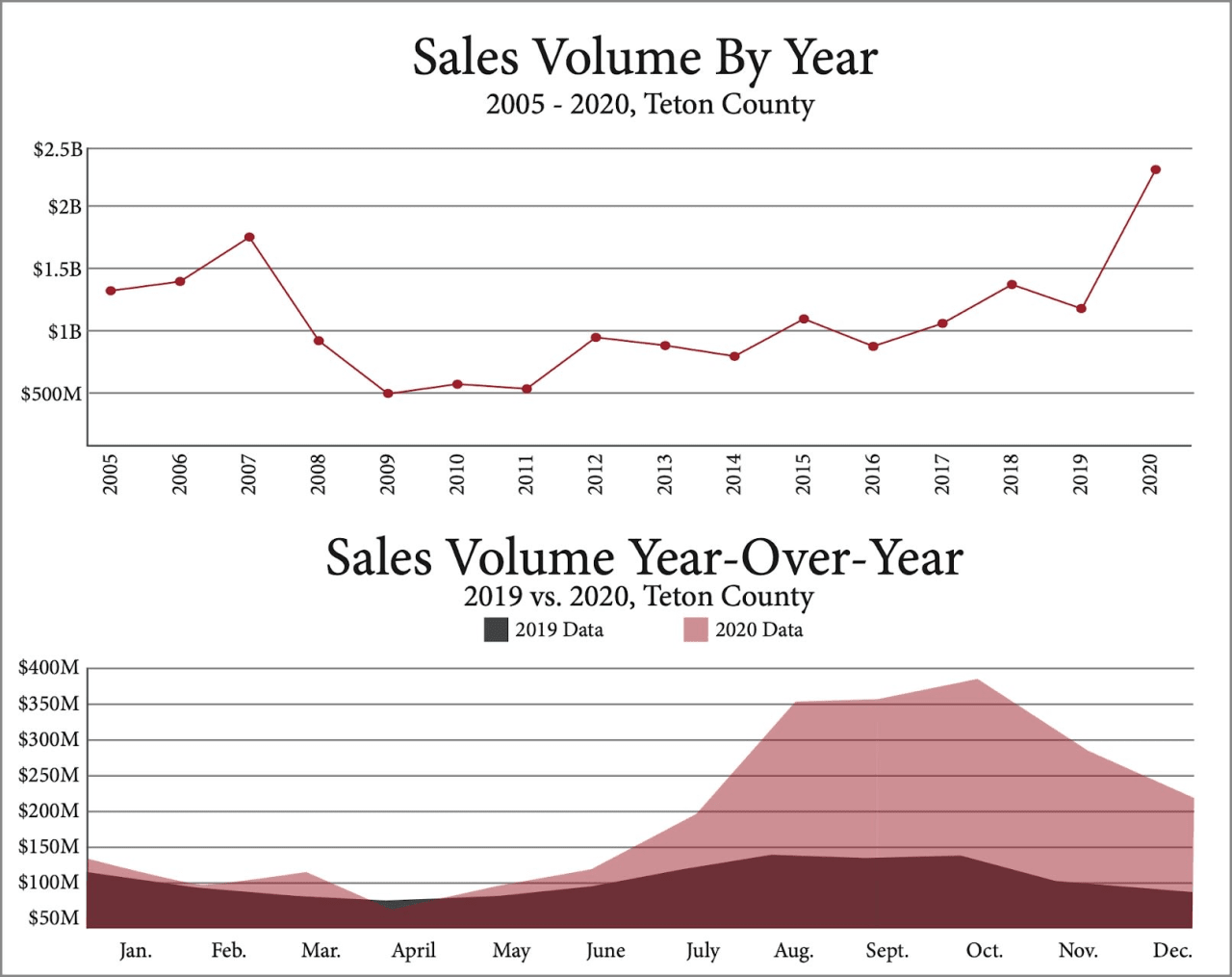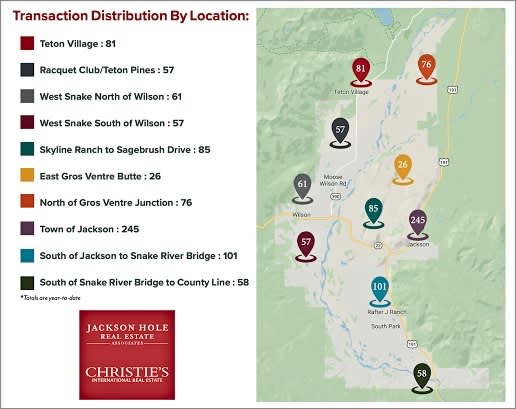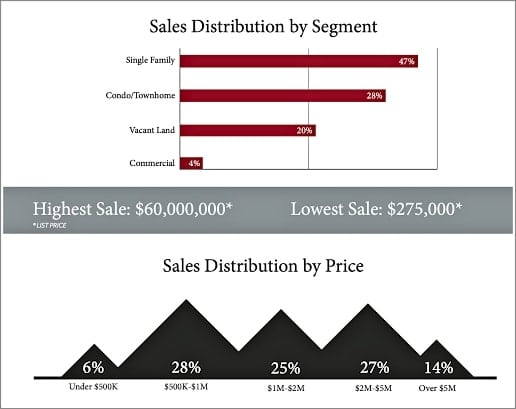 SINGLE-FAMILY
Total dollar volume in the Single Family Home segment is up 127% to $1.5B Year-Over-Year 2020 vs. 2019, an all-time record. With nearly no Single Family Homes under the $1M mark, it is not surprising
that the average sales price was pushed up 48% to $3.7M in this category. Notably, the number of transactions above $2M in Single Family Homes is up 297% Year-Over-Year 2020 vs. 2019.

Overall, the number of Single Family Homes transactions increased 54% and that trend does not show signs of slowing down with a 65% decrease in active listings and a 52% increase in pending listings at the time of this report. The highest sale in this category was a luxury home located in West Bank South alongside the Snake River that was listed at nearly $40M. We examine this uptick in the higher-end priced properties on page 10 of this report.


Average Days on the Market

189
CONDOMINIUM & TOWNHOME
The Condominium and Town-Home segment experienced a 38% increase in dollar volume Year-Over-Year 2020 vs. 2019. With lower priced product a rarity, sales in coveted luxury developments such as One Town Hill located in the Town of Jackson, and Four Seasons Resort Jackson Hole located in Teton Village fueled the increase in average sales price up 51% to $1.4M. Lower inventory in 2020 vs. 2019 accounts for the 8% decrease in transaction volume.
​​​​​​​
At the time of this report, inventory is down 59% 2020 vs. 2019. Pending listings are up 10%.


Average Days on the Market

146
VACANT LAND
Vacant Land in Teton County broke new records for sales activity in 2020. Total sales volume in Land has more than doubled to $414M Year-Over-Year 2020 vs. 2019. Transactions increased 82% with 21 sales over the $5M mark. Large, luxury land such as parcels in Vogel Hill, Bar BC Ranch and Bar B Bar were highly sought after in 2020 due in part to scarcity in luxury Single Family Homes. There are only 33 active listings in vacant land, down 65%. Days on market dropped dramatically down 43%. There are only 33 active listings in vacant land, down 65% reinforcing the shift from home buyers to land buyers. Days on market dropped dramatically down 43%.

The highest sale in Vacant Land in 2020 was a dramatic Teton View parcel located North of Town listed at $15M. Another example of the demand for rare and unique higher priced properties.
​​​​​​​
The Jackson Hole area is, and will continue to experience a building boom based on this recent activity.


Average Days on the Market

311
LUXURY
The Luxury segment (listings trading over the $3M mark) skyrocketed this year, nearly doubling in dollar volume to $1.4B Year- Over-Year 2020 vs. 2019. Demand in this sector is primarily from those relocating or buying a second home in Teton County due to its beauty, safety, seclusion and quality of life.

​​​​​​​The Luxury segment experienced very significant increases across the board in 2020. The average sales price climbed to $6.5M. Transaction volume increased 153% with 223 sales in 2020 in this segment. Active listings are down 43%. Pending listings are up dramatically, 170% almost guaranteeing this segment will stay hot well into 2021.


Average Days on the Market

226
COMMERCIAL
The number of transactions in the Commercial segment was down 20% Year-Over-Year 2020 vs. 2019. However, the average sale price nearly doubled due to one record breaking multi-million dollar sale within the town of Jackson - The Virginian Lodge. This sale was a very large and rare lodging property with development potential listed at $60M. The sales price in undisclosed. Overall, the average days on market declined in the segment.

​​​​​​​At the time of this report, there are only 6 active listings in the Commercial segment with 5 pending listings.


Average Days on the Market

243
Farm & Ranch
Large and expansive Ranch properties in and around Jackson Hole are becoming more desired than ever before. As in the Luxury segment, open space, safety and quality of life are paramount to buyers.

In Teton County only, sales volume doubled to $93M, transaction volume increased nearly 59% and the average sales price increased 36%.

​​​​​​​To learn more about this segment of the market, please visit our sister website at www.WesternRanches.com.


Average Days on the Market

512
JACKSON HOLE REAL ESTATE ASSOCIATE
As the region's largest and most dynamic real estate company, Jackson Hole Real Estate Associates provides marketing and services that honor this remarkable destination. We are committed to being the leading luxury real estate brand in the Teton region. By staying on top of market trends and continually striving to offer cutting edge marketing and advertising services we deliver extraordinary experiences to clients and exceed their expectations.

​​​​​​​As a market leader in Jackson Hole, we believe the success of our company is based on the value that we provide for our clients, community and agents. It is this value-driven philosophy that has helped to guide the successful growth of our organization. There is no real estate company in the region that provides more exposure for listings or more choices for buyers.