Welcome to our mid-year market report for 2020
Our decades-old proprietary data base of historical sales in Teton County, gives us greater insight into the market. Most, but not all sales, are reported in the Teton County MLS (Multiple List Service) system. Typically, it is the higher-end sales that go unreported vastly skewing the accuracy of MLS data alone. This has been particularly true in Q2 2020, where many of the sales went unreported. Our internal database accounts for ALL sales in our market, providing the most comprehensive overview of Jackson Hole Real Estate Market.

In this detailed report, you will find information on the market segments making up the Jackson Hole region. As the leading brokerage in Jackson Hole, we have developed this comprehensive report to help analyze the trends that are shaping our real estate market, empowering our clients with current data as they navigate Jackson Hole real estate oppor- tunities.
Summer is the new Spring in Jackson Hole. The market uncertainty created by the impacts of COVID kept buyers and sellers on the sidelines this spring, but uncertainly can offer opportunity and Jackson Hole Real Estate Associates quickly shifted to doing business a new way.

As a leader in the business community, we were one of the first to develop and implement initiatives to keep our team and the community safe, while also being a source of stability and information for our clients. Through a remote work plan we continued to convene our weekly office meetings via ZOOM, we moved our traditional open houses to a custom virtu- al tour website and we rolled out plans to increase traffic to our website. We supported local restaurants and businesses with company-wide gift card contests, helped organizations that work to alleviate food insecurity and sponsored the local hospital Community Mask Program, quickly bringing 10,000 much needed masks to Jackson Hole. Our live State of Real Estate Community Forums led by forward thinkers and progressive leaders provided sound, data driven information on the economy, both locally and nationally and were the first of their kind in the Jackson Hole.

​​​​​​​As we head into summer, the slower season we felt in early spring has been replaced with robust real estate activity and an excitement in the air. We look forward to sharing our insights with you and strive to remain your trusted advisor as we head into the summer and fall of 2020.


The Jackson Hole Market
What an unprecedented year 2020 has been so far. After a record breaking first quarter for Jackson Hole Real Estate Associates and a 30% increase in the overall Teton County market in Q1, the world was suddenly upended by an international pandemic. In response, our firm ramped up its operations with an understanding that it was critical for our clients to closely track market information.

The Teton County real estate market "hit pause" as the uncertainty of the pandemic rippled through the region starting mid-March 2020, when the shut down began. According to MLS data, overall transactions lagged nearly every week through the first week of June, 2020 vs. 2019. In the same period, new listings and pending listings were also down. But beginning in June 2020, the local real estate market started heating up.

Single Family home pending listings, those that are under contract and slated to close, are up 62% YTD 2020 vs. 2019. Buoyed by a recent, significant demand in the second home market, Luxury Listings, those priced above the $3M mark, reports a 164% increase in pendings YTD 2020 vs. 2019. This is a strong indicator the local market has quickly bounced back due to pent up demand created by the pandemic.

The number of transactions declined 22% while the average sale price leaped up 52% further confirming a robust upper end of the market. The number of sales over the $2M mark increased dramatically YTD through 2020 vs. 2019. Transaction volume overall con- tinues to decline, down 22%. Active listings are slightly down at 5% and average days on market declined.

​​​​​​​As the world continues to carefully re-open, many are discovering the unique lifestyle benefits and quality of life that Jackson Hole offers to its residents.


Overall Average Sale Price

$2,540,152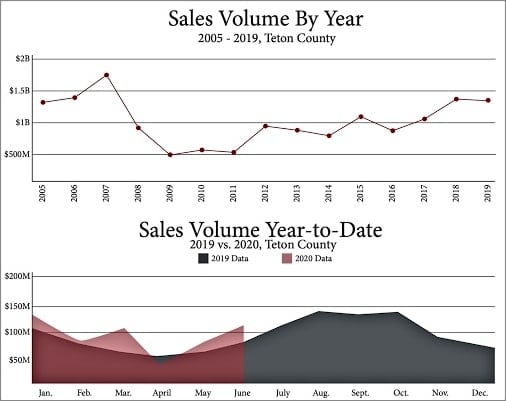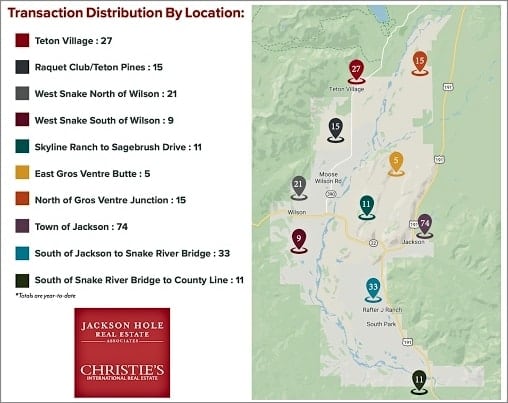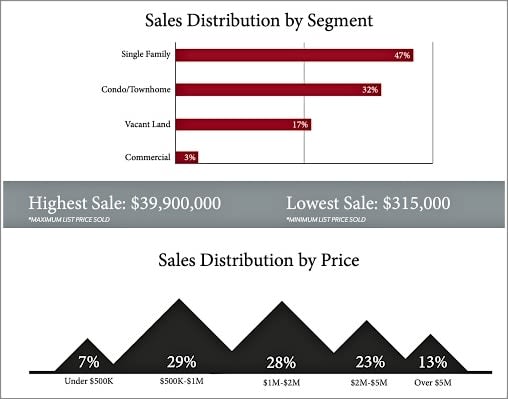 SINGLE-FAMILY
With transactions remaining flat, the Single Family Home segment is performing well, showing a 32% increase in total dollar volume year over year. The average sale price is up 32%, as a significant number of sales through mid-year occurred in the $2-5M dollar price range including an off-market sale listed at $39.9M.

​​​​​​​With a drop in active listings of 18% and a significant increase of 94% for pending listings, demand continues to soar.


Average Days on the Market

239
CONDOMINIUM & TOWNHOME

Condominiums and townhomes had a decrease in transactions of 41% YTD 2020 vs. 2019 ticking down total dollar volume 6%. The average sales price however, jumped 60%. The majority of sales occurred in the price segment of $500K to $1M, with four sales over the $5M mark.

​​​​​​​Inventory is up 60% YTD 2020 vs. 2019 with the nearly half of these active listings located in the Town of Jackson. Pending listings have seen a bump of 18%.


Average Days on the Market

125
VACANT LAND
Vacant Land transactions increased 6% Q2 2020 vs. Q2 2019, and dollar volume increased 59% with several high-end parcels driving the uptick in volume along with average sales price.

​​​​​​​Active listings are down 14% while, pendings increased 29% . The majority of available land listings heading into Q3 are located south of Jackson.


Average Days on the Market

327
Average Days on the Market

92
​​​​​​​​​​​​​​LUXURY
The Luxury Segment, listings that are above the $3M mark, traded briskly up 62% YTD 2020 vs. 2019. Dollar volume spiked 91% due in part to a $39.9M off market sale. Average sales price rose 18%.

​​​​​​​Although active listings fell 21%, pending listings are up dramatically, at 164%. While luxury land does not account for majority of luxury sales, it's notable that luxury land sales are up 233% year over year.


Average Days on the Market

296
JACKSON HOLE REAL ESTATE ASSOCIATES
As the region's largest and most dynamic real estate company, Jackson Hole Real Estate Associates provides marketing and services that honor this remarkable destination. We are committed to being the leading luxury real estate brand in the Teton region. By staying on top of market trends and continually striving to offer cutting edge marketing and advertising services we deliver extraordinary experiences to clients and exceed their expectations.

​​​​​​​As a market leader in Jackson Hole, we believe the success of our company is based on the value that we provide for our clients, community and agents. It is this value-driven philosophy that has helped to guide the successful growth of our organization. There is no real estate company in the region that provides more exposure for listings or more choices for buyers.