On behalf of our team of dedicated professionals at Jackson Hole Real Estate Associates, we are pleased to present our comprehensive Market Report for Quarter One 2020. In this detailed report, you will find information on the market segments making up the region. As the leading brokerage in Jackson Hole, we have developed this comprehensive report to shed fresh light on the trends that are shaping our real estate market.

Our most comprehensive proprietary data base of historical sales in Teton County gives us a greater insight into the market. Most, but not all sales, are reported in the Teton County MLS (Multiple List Service) system. Typically, it is the higher-end sales that go unreported leaving MLS ONLY reports lacking. Our internal database accounts for ALL sales in our market, providing the most accurate data regarding the Jackson Hole Real Estate Market.

As we head into unprecedented territory due to the uncertainly of the market caused by the COVID-19 outbreak, we understand that the next few months will be unique to each home buyer and seller. Our continued goal remains to be a source of information and stability for our clients and friends.

​​​​​​​Jackson Hole Real Estate Associates posted a record breaking first quarter in 2020 and the overall Teton County mar- ket was up nearly 30% in total dollar volume sold. Armed with the knowledge we gained in the first part of this year and the collective experience our team has navigating all market conditions we will continue to be a resource for you in these ever-changing times.
​​​​​​​

The Jackson Hole Market
While it is not business as usual, Jackson Hole Real Estate Associates is open for business. We are leveraging remote technol- ogy to fully operate and ensure our clients are supported. We understand our clients continue to transact business for many reasons and during these unprecedented times tracking market conditions is critical.

The Teton County real estate market for Q1 2020 showed steady growth as Total Sales Volume increased by 29%, in a year-to- date comparison. The Average Sale Price for all properties in Teton County also grew by 25% and the number of transactions grew a modest 3%.

While Teton County and the Jackson Hole region will always struggle with a high demand for real estate and a lack of inventory, Q1 of 2020 reports an 8% increase in active listings over Q1 2019, offering an increase in selection for those ready to buy. However, with over 97% of Teton County permanently protected in national park, forest, BLM, and conservation lands, the scarcity of available land will remain in perpetuity.

​​​​​​​Although there are uncertainties ahead, the market's strength over the past three months is a positive indicator that Teton County will still be a good place to buy and sell homes throughout 2020 and beyond.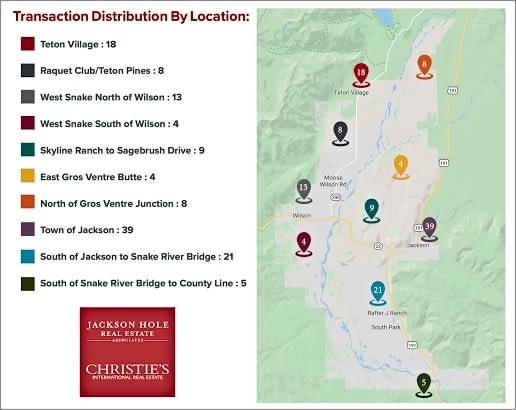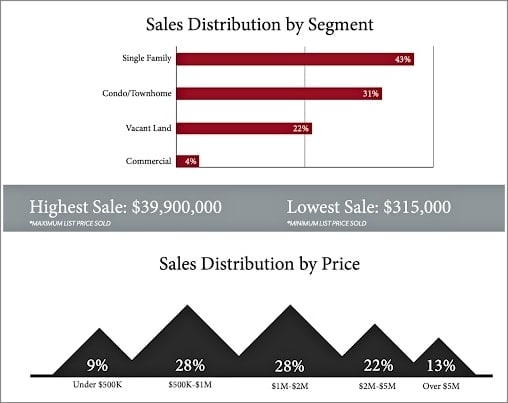 SINGLE-FAMILY
The average price of single-family homes continues to increase, up 31% along with total sales volume up 27%. As there were no transactions under $500,000 and the majority of sales were in the $2M to $5M price category, several higher-end transactions fueled this segment.

​​​​​​​Days on Market for single family homes and inventory have increased, by 37% and 11% respectively opening up some much needed opportunities for buyers as we head into 2020.


Total Dollar Volume​​​​​​​



Average Days on the Market

280
CONDOMINIUM & TOWNHOME
Condominium and townhomes saw a notable increase in active listings of 54%. While the number of sales have decreased, the average sale price rose 17%. Transactions in the $500k-1M made up 45% of sales - a 38% increase Q1 2020 vs. Q1 2019. This could suggest movement towards a higher price point within the condo market.

​​​​​​​The majority of transactions took place within the Town of Jackson followed by Teton Village indicating continued demand in product at Jackson Hole Mountain Resort and the growing popularity of in-town living.


Total Dollar Volume​​​​​​​



Average Days on the Market

139
VACANT LAND
Vacant Land transactions increased 190% Q1 2020 vs. Q1 2019, following a 220% increase in pending transactions for the previous quarter. Though relatively stable, average sale price rose by 3% reflecting the majority of land sales landing in the $1M-2M price segment.

​​​​​​​Active listings remain stable with a slight 4% drop. The majority of available land listings heading into Q2 are located south of Jackson.


Total Dollar Volume​​​​​​​



Average Days on the Market

372
LUXURY
The Luxury Segment, listings that sell above the $3M mark, saw an uptick in transactions of 36% Q1 2020 vs. Q1 2019. Following suit, total dollar volume increased by 58%. Average sales price increased by 16% while the median price saw no change.

​​​​​​​Pending listings are up 33% showing continued demand, a positive indicator going in the Q2 for this segment. Inventory in the price category continues to remain limited.


Total Dollar Volume​​​​​​​



Average Days on the Market

341
LUXURY
As the region's largest and most dynamic real estate company, Jackson Hole Real Estate Associates provides marketing and services that honor this remarkable destination. We are committed to being the leading luxury real estate brand in the Teton region. By staying on top of market trends and continually striving to offer cutting edge marketing and advertising services we deliver extraordinary experiences to clients and exceed their expectations.

​​​​​​​As a market leader in Jackson Hole, we believe the success of our company is based on the value that we provide for our clients, community and agents. It is this value-driven philosophy that has helped to guide the successful growth of our organization. There is no real estate company in the region that provides more exposure for listings or more choices for buyers.